You've decided to begin a social good journey with the best of intentions and help out in a worthy cause. Should be easy right? In the current podcast episode you find out that being a social good entrepreneur is not quite as simple as you thought.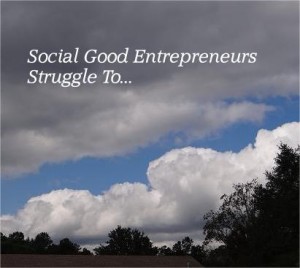 I connected with Sandra Centorino while live streaming on blab and fell in love with her energy, fun spirit and quick wit (and her Twitter bird prop that I copied. Not to worry she was a great sport about my theft). I invited her to come on the podcast because she perfectly fits the characterization of "Ordinary people doing extraordinary things" and found out through our chat that Sandra is a woman with a "history".
I quickly learned that her high energy and kind attitude are not something she pretends during her live stream chats but how she lives every day giving out positivity. Her story starts like one of those novels where it was a dark and stormy night. She gets a call from a friend recently diagnosed with cancer who tells her she has lost most of her hair and simply can't bring herself to attend an upcoming high school reunion. Sandra discusses the call with her young daughters and they decide to do something to help her friend feel better about herself and that reunion. They spend some time down in their dark basement and come up like Dr. Frankenstein with a head scarf that takes on a life of its own in helping not only her friend but hundreds of thousands of other people in a similar situation. Theirs was a good monster!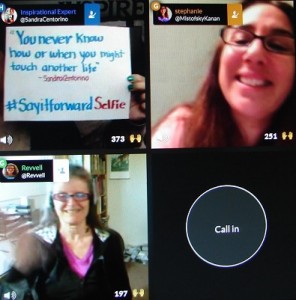 The happy ending hits a snag when one of their biggest backers dies of cancer and it becomes difficult to keep funding their project. Sandra and her daughters decide they have had a good run, after all they were not really in business just trying to do a good deed and shut down the project. However, all that energy had to go somewhere and Sandra and the girls set out once again on a mission to spread positivity and came up with "Say It International", small acts of kindness that people can do the world over. Only this time her husband and mother step in and say the dreaded word "planning". This time around Sandra is going to have to learn about business and how an organization actually functions. I smile as I listen to her tell her story because I'm thinking that she does not realize how she surprised herself with what she was able to learn and the connections she was able to make in order to get her organization off the ground. All the while she is telling you about it in a manner that is part Joan Rivers and what sounds to me like a Boston Barbara Streisand.
Yes, it was a fun interview but it also puts to rest the idea that social entrepreneurs have an easy time on the road to doing good deeds. She doesn't dwell on it but you get a sense that there have been moments of disappointment even as she was trying to help others.
That she knows where she wants to go but sometimes has to remind herself that things take time, even for a person with loads of energy and great intentions. However, you'll also realize that it is those intentions that keep her going as you hear her say she rises each day and writes out her intentions for that day to send them out into the universe.
I think you'll learn a lot from this fun interview. Did I mention Joan Rivers and Barbara Streisand? But more than anything you too should come away from listening to it with an idea of what an accidental entrepreneur can do with a good heart and yes a little planning…