Your live stream content is a gold mine for additional content. The current podcast episode tells you how to mine it to get the most exposure for yourself and your content.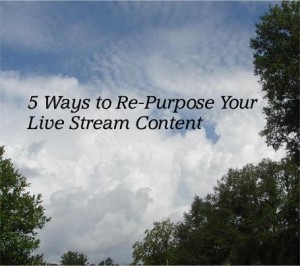 You're on a number of sites but have gotten caught up in live streaming. Without realizing it you have stumbled on to a wealth of content that can help you create a presence for all those other sites. You just need to know how to use it, and that is where this episode comes in. I decided to walk the walk and use a blab event that takes you through re-purposing as a test case.
Below are a few of the key points from the podcast to keep in mind:
Blab (live stream) with purpose.
Despite the name of the platform, don't just get on and start randomly talking. Write out a few bullet points of things you hope to cover so there is direction to your event. You may not cover everything you listed but you posted a topic for a reason. Setting a time limit to either present content or open the event up for questions also serves to help you focus on the topics you want to cover. This doesn't mean your event can't be free flowing, but a time limit helps you stay on topic. If people want to continue talking then allow an "after party" where they can talk off the record.
Pay attention to questions that come up.
If a particular type question keeps coming up in the comment section pay attention because this is something people are letting you know they have an interest in that you may want to cover in another event.
Make use of video editing software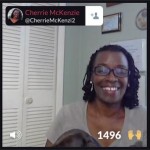 I mention during the podcast that using your own or the editing software provided by Google on YouTube is a great way to clean up your event. Raw video has the feel of spur of the moment but loses something when your audience has to scroll through to find a part that interests them. You now have new content for your YouTube channel and can also post it as an update on your website.
Separate Audio from video
Separating the audio from video gives you good content that you can use to create your own podcast. The clean up rule applies here also, and once you've uploaded it to your hosting service you have a URL that can be dropped in places like Soundcloud, or Tumblr.
Graphics and blogs
A funny or interesting photo accompanying your audio helps engagement on sites that allow it like Tumblr. Doing a blog around your observations on the event with your photo takes it to the next level and gets you space on Pinterest and instagram as well.
Post your blog as an article
Numerous sites are always looking for content and your blog is a great way to help them and yourself. Linkedin is especially great for this because you not only get credit for the article but also a little "social proof" with your connections.
Create your own archive
You may not want to re-purpose every event but keep an archive of prior events for those times when you have run out of ideas. Sitting right there on your computer is a treasure trove of content you can go to in those moments.
The podcast episode is a little more detailed but these tips should get your mental juices flowing to find other ways you can begin to re-purpose that live stream content. True it requires a little effort on the front end but will pay dividends over and over in exposure.
If you liked the show, be sure to subscribe on iTunes and Stitcher. If you really liked it, be sure to write a review. It helps the show.